With smartphone usage crossing over 3.6 billion consumers globally in 2021, it is a huge opportunity for brands to promote their apps and get captive audience.
Consumers are constantly using their phones today be it at home, at work, in bed, while eating etc. So, what is everybody doing on their phones? A recent research by eMarketer suggests that an average adult spends more than 4 hours on mobile internet, with over 88% of their time is spent on apps. [1]
This is exciting news for anyone who owns an app or is planning to develop one. But in order to be successful as an app owner, it is imperative that the users download your app and engage with your app regularly. In order to achieve these two seemingly simple steps and compete in a multi-billion dollar app industry, it is important for brands to reach the right audience on the right platforms.
Apps can't succeed without downloads, it might sound simple but it often gets overlooked.
App download challenges brands are facing today
At present, Google and Facebook are the two largest channels advertisers use to promote their apps. However, as the competition continues to grow there is a lack of visibility for the brands and higher cost of promotion. Also, brands are struggling with the high investment cost, time and resources to explore alternate media vehicles to reach maximum users.
How VEVE can help
VEVE helps marketers reach 500+ MN active users directly through their mobile handsets (OEMs) and browsers. With our network partnerships, expertise and right strategy, brands can drive upto 50,000 daily app downloads.
VEVE's unique ad formats and media placements helps brands acquire high quality users from previously untapped sources. With targeting features such as device price range, location, app category etc. brands can target more relevant users to gain higher retention.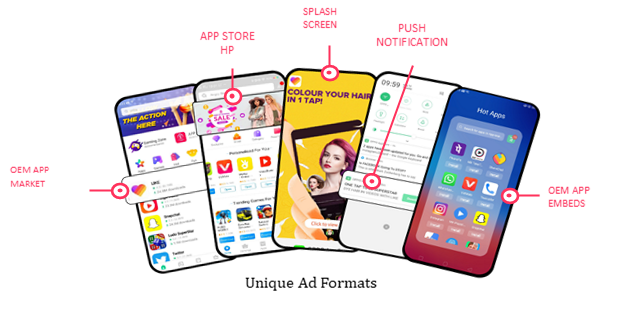 Why partners choose VEVE
VEVE ensures end-to-end transparency and campaign management with non-incentivized, 100% fraud free, high quality inventory. With access to top app stores and free listing of APK on all mobile app stores, VEVE is a partner of choice for 1000+ brands globally.
How do I get started?
Building relationships and getting access to different OEMs across geographies has been a consistent challenge for brands. It requires technical expertise, time and resources for set up and campaign implementation.
VEVE simplifies the process and helps brands set up campaigns across multiple OEMs in 3 simple steps.
We get your app listed on the native app store
You can then share your agency access on respective MMPs with us
As a last step you share campaign creatives, links to get started
As the smartphone penetration continues to grow and mobile app industry becomes increasingly competitive, it is important for brands to understand exactly how people are downloading and using the apps in order to thrive.
Reach out to us to know more about our app install solution at sales@veve.com
[1] https://www.emarketer.com/content/the-majority-of-americans-mobile-time-spent-takes-place-in-apps