As more people get bombarded with ads online, their fatigue towards the ads grows. This does not mean that marketers will need to stop digital advertising. However, marketers will have to find innovative and non-intrusive ways of advertising in order to get their customer's attention.
As the digital landscape has evolved advertisers can control where their ads are shown targeting the right customer, at the right time, and in the right context. Ad formats have adapted as well and have surpassed some of the challenges of ad fatigue, blindness or ad blockers. With the increased spending on mobile ads, the following ad units appear to generate much more return on investment.
Ad formats for mobile that generate the highest revenue
1. Tiles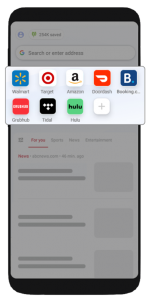 Tiles is a brand discovery product that helps navigate users to the brand websites. It is a native ad format that can be placed at multiple touch points throughout user's mobile journey including launchers, minus 1 screens, mobile apps, app stores, search engine, extensions. Tiles can be used by brands to drive sales, clicks, engagements, leads and subscriptions.
Impact
Tiles helps brands get 3X better interactions than standard display banners. Not only that, it helps brands grab user's attention even before they start their browsing journey.
2. Push ads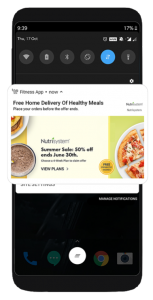 Mobile push notifications is a high performing ad format that brands can use to push their daily deals, offers, discounts, new launches etc. These ads provide a great way to acquire new customers or re-engage with your existing ones. Push notifications can be run via mobile OEMs, browsers, mobile apps, telcos and content websites.
Impact
Push ads let businesses push promotions to the right customer at the right time, are very noticeable and can have high CTRs upto 1-3% for a well customized ad unit.
3. App install ads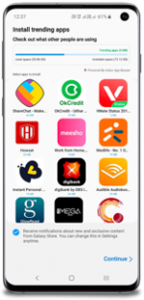 Customizable ad formats that help to deliver high quality bulk app downloads in a short period of time. These ads can be placed on OEM-owned Appstores and third-party apps. The ads provide great experience and help to acquire untapped customers by allowing users to download the app directly though the ads. With targeting features such as device price range, location, app category etc.
Impact
As app usage continues to grow, app install ads are a great way for brands to acquire new users with up to 50k+ daily downloads and increased retention, registration, subscription and engagement rates by up to 50%.
4. Universal ads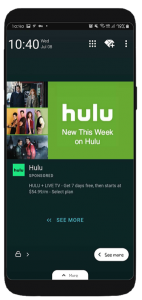 Unique tailor-made banner ads that helps brands drive high user engagement. These ads can be placed across multiple touchpoints like app stores, browsers, minus one screens, lock screens or any other apps.
Impact
Universal ads are designed to stand out and generate a higher engagement rate than other ad formats. Applying universal ad formats advertisers can expect up to 2X higher CTR and increased customer life time value.
The effectiveness of the ad campaigns depends on the tools brands use. These formats not only help overcome the ad fatigue of the users but also get better ROI for brands including higher sales, leads, app downloads, website visits, subscriptions, user engagements, etc. Advertisers must analyze the impact of different ad types, identify the ones which work best for their brand and target audience, and make it a part of their marketing strategy going forward.
Achieve the best results for your ad campaigns. Write to us today!
Contact VEVE
Or Write to us at sales@veve.com to know more.